Why Sensor Glucose does not equal Blood Glucose
Your sensor glucose (SG) readings are taken from your interstitial fluid, and not from your blood, like fingersticks. Interstitial fluid is the fluid that surrounds the cells of your tissue below your skin, and usually glucose moves from your blood vessels and capillaries first and then into your interstitial fluid. It's helpful to think about it like a rollercoaster where the front car is the blood glucose (BG) and the car in the back is the sensor glucose (SG):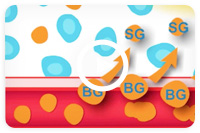 Blood Glucose and Sensor Glucose:
 What's The Difference?
watch video »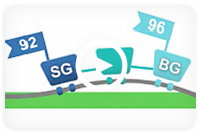 Why SG Won't Always Match BG

watch video »
When on the rise, the BG value is greater than the SG that follows behind it. But when moving down the tracks, the BG in front is now less than the SG value.
A few points to remember when using CGM with your MiniMed® 530G with Enlite®:
SG and BG readings will rarely match and are expected to be different
A greater difference between SG and BG will be seen when your glucose is changing quickly, such as after eating or after taking a bolus of insulin
And most importantly, always confirm with your BG value before deciding to correct a high or treat a low glucose
Here's A Tip: Knowing the direction and speed of your glucose changes will be more useful than focusing on individual BG or sensor readings. When using continuous glucose monitoring (CGM) trends are the key. In fact, seeing trends and patters in your glucose is likely one of the primary reasons you started using CGM therapy. Trends highlight the direction that your sensor glucose readings are moving and the speed at which they are changing. Fingerstick blood glucose readings and sensor glucose readings are only snapshots of your glucose at that very moment. Trends can tell you if your glucose has been rising, falling, or appears to have been stable over several minutes, hours, and even the day.
So it's important not to focus too much on the individual sensor glucose numbers (as it is likely to be different from your BG meter reading) and more on trends and patterns in your glucose levels.
930M12405-011 20140428