Teenagers and Diabetes
For teenagers living with diabetes, an already complicated time in life can seem especially difficult. The pressures of schoolwork, social activities, peer pressure, and a changing mind and body can make managing your condition seem like a less important priority. However, you do not need to be discouraged. By partnering with your care team and staying informed on your condition, you can successfully navigate diabetes during your teenage and young adult years. The tips below may be helpful. However, they are not a substitute for medical advice, and you should always discuss management approaches with your healthcare provider.
Managing glucose at school
It is important that your school is aware of your condition. This way they can be prepared in case of an emergency and make certain accommodations if necessary. For example, if you need to eat or take glucose tablets during an exam, your teachers can make sure that you are able to do so.
Checking your blood sugar during the school day is also important. A good time to do this is between periods or during break times. Your school should make sure that you are able to access your testing kit. In addition, using a continuous glucose monitor can be helpful to be able to monitor sugar levels and trends.
Another recommendation is to be prepared when you are being physically active, which includes PE class or sports practice. Physical activity, even in short bursts, can cause your blood sugar levels to drop1. It is best to have a form of quick digesting carbohydrate with you. You may also find it helpful to eat a snack before physical activity.
Making smart food and lifestyle decisions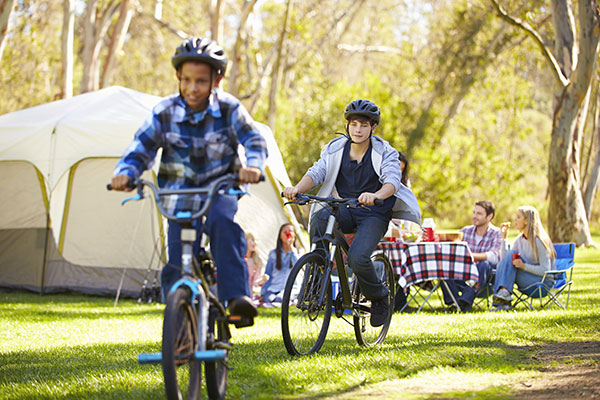 Nutrition choices including the type of food and the amount, can impact your sugar levels. It may be tempting to eat fast food and other high-fat foods with your friends, even if it goes against your meal plan. You may also decide to skip taking your insulin because it is inconvenient, or you just don't feel like it. Some habits, including eating snacks that are not covered by insulin can cause high blood sugar. In some cases, skipping insulin can result in diabetic ketoacidosis2. Focusing on healthy eating behaviors and covering meals and snacks with insulin can significantly help in managing blood sugar, ultimately impacting current mood, and your long-term health. Sticking to your meal plan can help you stay healthy. Getting regular exercise is also a good way to keep your blood sugar levels in check, so make sure you get out and move around. Let your diabetes care team know what extracurricular activities you wish to participate in, so they can help and continue to personalize how you can achieve your goals.
Staying up late at night and sleeping in can also create problems with your treatment plan. It's important to stick to your insulin and testing schedules as closely as you can.
Taking the next step
While your parents will help you stay on top of your treatment plan, taking care of yourself is crucial. As you move through high school and beyond, there are things that you should know how to do, such as:
Managing your insulin schedule
Finding a doctor and making appointments
Keeping a testing kit and rapid digesting carbohydrates available
Filling and picking up a prescription
Having back up plans if you are using diabetes technology including insulin pumps and/ or a continuous glucose monitor
As you enter adulthood, you will also need to move on from a pediatrician to an adult physician. This does not have to lead to a gap in care. Your current care team can help you map out your future with referrals and other guidance.
Learning to take a more active role in your treatment now can help you later3. As you become more independent, taking responsibility for your condition can lead to a healthier, happier life.