About Diabetes > Time In Range
WHAT IS TIME IN RANGE?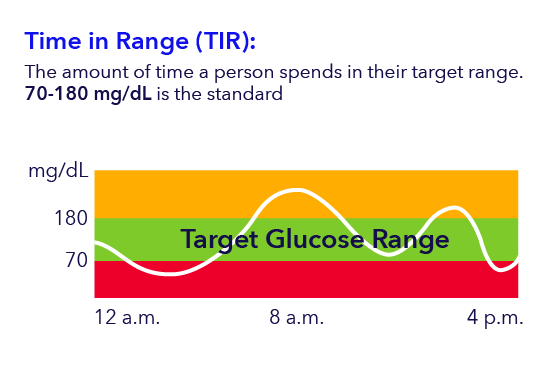 Time in Range is a relatively new term used within the diabetes community. It describes the percentage of time the blood glucose levels stay within a pre-determined range for people with diabetes. Time in Range provides a more accurate picture of blood glucose over a period of time.
It is recommended to maintain a blood glucose, or glycemic, range of 70mg/dL (low) -180 mg/dL (high) at least 70% of time.1,2
The goal with diabetes management is to increase time spent in this target range and to minimize high and low sugar levels. Doing this can reduce the risk of both immediate and long-term health complications.
More Time in Range means less severe highs and lows.
A1C AND TIME IN RANGE
Thinking
beyond A1C:

A1C is an average that does not capture many important variables, including time spent high or low.
A1C is the average of a person's blood sugars over the past ninety days.
The American Diabetes Association recommends that adults with diabetes should have an A1C less than 7%. This translates to an average blood sugar of 154 mg/dL.2
"What is your A1C?" Are you happy with your A1C?" People living with diabetes are often faced with these questions.
A1C is an average and does not give the full picture. It does not capture many important variables. It also masks the occurrence and frequency of dangerous highs and lows.
Time in Range provides additional insights beyond A1C. Time in Range provides visibility into how much time a person spends in high and low glucose levels throughout the day. It identifies day-to-day changes in blood sugar and helps people see how much time they're spending in that healthy, feel-good range.
People with similar A1C's, might have very different blood glucose levels.
WHY IS TIME IN RANGE IMPORTANT?
Managing blood sugar by focusing on the time spent "in range" versus the overall average can improve quality of life because it can help reduce time spent worrying.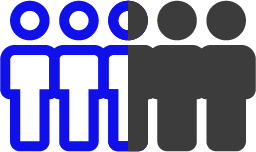 More than half of people
with diabetes are very worried about the risk of hypoglycemia (low blood sugar).3
Unpredictable glucose levels have a significant negative impact on daily life for 40% of people using multiple daily injections (MDI) to manage their diabetes.4
Spending more Time in Range helps minimize complications5 from going too high or too low.
TIME IN RANGE GOALS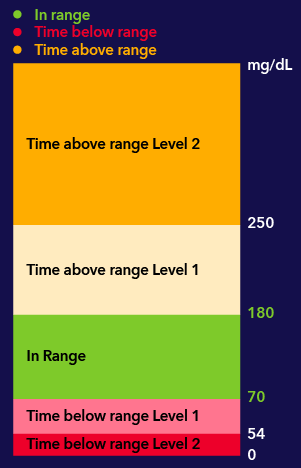 In 2019, an international panel of clinicians, researchers, and people with diabetes met and established these goals:6
Greater than 70% of time should be spent between 70 mg/dL and 180 mg/dL
Less than 25% of time should be spent higher than 180 mg/dL
Less than 4% of time should be spent below 70 mg/dL
Less than 1% of time should be spent below 54 mg/dL
This gave people living with diabetes and healthcare professionals a tool to measure what diabetes management looks like and a target to strive for.
Ideal Time in Range can vary from one person to another depending on factors such as medication, diabetes type, age, and health.