Hypoglycemia Unawareness
As unpleasant as they may be, these symptoms are useful as they help let you know that action is needed to correct a low blood sugar.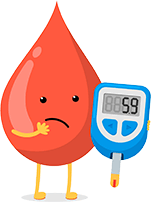 But many people can have blood sugar readings below 70 mg/dL and feel no symptoms. This is called hypoglycemia unawareness.
People with hypoglycemia unawareness are not able to tell when their blood sugar goes too low and may need help from someone else to treat it – this is also known as a severe low.
They are also less likely to wake up from an overnight low.