Tips for parents of newly diagnosed children
As a parent, you do everything you can to protect your children. When your child is diagnosed with type 1 diabetes, you may feel helpless and scared. As you begin your diabetes journey, learning more about the condition, as well as what to expect, can help ease your mind and build confidence.
Managing type 1 diabetes
When your child has type 1 diabetes, their pancreas makes little or no insulin1. Insulin is a hormone that helps the body convert blood sugar into energy. Because the body needs insulin to live, your child will need to take it daily, either by injection or with a pump2.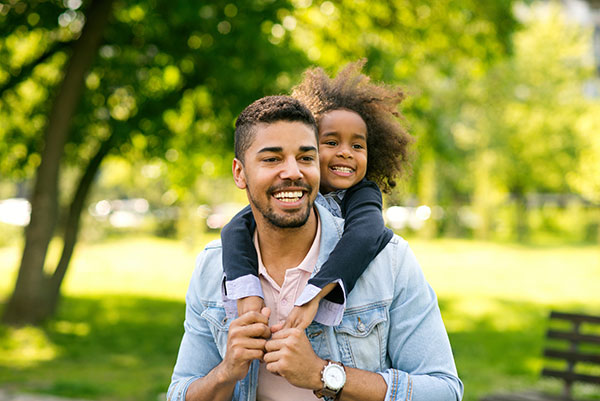 Checking your child's blood sugar levels is also important. This is something that will need to be done throughout the day using a glucometer or continuous glucose monitor (CGM)3. The goal will be to stay within a target range, which can vary depending on your child's condition. Checking your child's glucose levels is vital to avoiding hypoglycemia (low blood sugar) or hyperglycemia (high blood sugar).
Talk to your child's school about accommodating their condition. They will make sure your child has time to check their blood sugar and take insulin. Your child may also need snacks throughout the day to keep their blood sugar in range.
Educate yourself and be patient
Living with diabetes will be a learning experience for both you and your child. There are ample resources available that can help you learn more about this condition. Talk to your child's doctor as they can direct you to education and support services. You can learn how to balance the diet, medication, and exercise needs your child may have.
You should expect highs and lows. Type 1 diabetes can be a constantly changing condition, and it's often different for everyone. As you figure what works for your child when it comes to food and activity, you'll be able to better manage their condition. Finding healthy foods that your child likes, as well as fun ways to keep them active, will go a long way in avoiding potential health complications.
Don't be afraid to ask for help. There are millions of people living with diabetes, and chances are you have a friend or family member who understands this condition. Lean on your own personal network when you have questions or need advice. There are also support groups available for parents of children with diabetes.
You can do this. While type 1 diabetes will call for some adjustments in your child's life and daily routine, it's important to remember that it's treatable. With the right combination of medical care and support at home, your child can have a happy and healthy life.